Do you enjoy reading the news, but it's still a bit too difficult for you in English? Then News in levels is the right thing for you. They even have an app.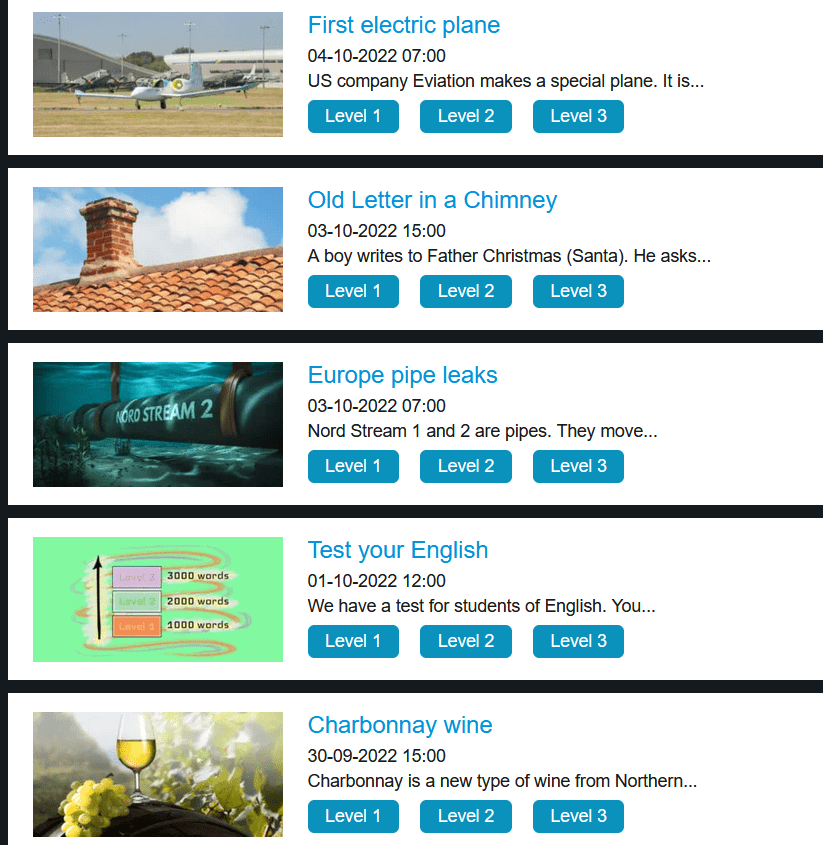 Remember a while ago I had a look at graded readers to improve your English reading, but also vocabulary and grammar. This is a similar site, but instead of books you can read adapted to your level, this is a website that has newspaper articles adapted to different levels. It selects different, interesting newspaper articles and adapts them to 3 different levels.
Any teen or adult English student who enjoys reading the news, but has difficulty with reading the original article.
Not only will it help you with your reading, vocabulary and grammar, but the articles are also very short. This means that it won't take too much of your time. Like I mentioned before it has 3 levels, going from level 1, which is for lower level students, to level 3, which is more difficult. They even have a spoken version of the text. They also highlight some more challenging words and explain them.
Overall, they are just interesting articles made easy for students of different levels, so if you are like me and enjoy reading the news, but it is a bit too hard for you to read a real newspaper then news in levels is what you are looking for.
For lower level students I would say, just read the level 1 article and enjoy reading it. 
For higher levels I would say read the different levels and see how the language changes. This gives you a good idea of how your language should be when you speak. Higher level students should be able to use more difficult words and should be able to talk more and make more difficult sentences. 
You could also look at the vocabulary, look up some words, take some notes, record them in your vocabulary booklet, review them and try to use them in your next class.
Each text is very small, so it won't take you more than 5 minutes to read the text. You might want to reread it or listen to it again. You might even want to look up some vocabulary. If you do that it might take you about 10 minutes. So, this means it's ideal for people who have very little time to practice.
The spoken version of the text is a robotic voice, it is not read by a person. This means that the intonation and other aspects of pronunciation are not natural. Still, it gives you some idea of the pronunciation of the words.
The articles are just to read for enjoyment, there are no exercises to do or questions to answer. 
So what are you waiting for? Have a look at News in levels, read some news and tell us in the comments below which article you found the most interesting.